Day 1
On July 5, 1994, Jeff Bezos founded a company unlike anything the world has ever seen. Despite turning 22 last year, making its founder
the richest man in the world
, and inspiring
existential dread
across a range of industries, Amazon will not be resting on its laurels. Official policy at Amazon insists that it is Day 1 for the company (horologists have it pegged to more like day 9,055). Amazon wants to maintain the vitality associated with being a young startup forever.
In Amazon's
2016 Letter to Shareholders
Jeff shares his answer to a question he got asked at an all-hands meeting, "Jeff, what does Day 2 look like?" Jeff's answer is exactly what you'd expect... from a wildly driven maniac:
Day 2 is stasis.
Followed by irrelevance. Followed by excruciating, painful decline.
Followed by death.
And that is why it is always Day 1.
The company's boundless ambitions and energy makes it increasingly seem everyone else is just living in Amazon's world. It is a small miracle if there isn't a question about Amazon at an
ICSC
talk, no matter the topic.
eMarketer
and
One Click Retail
both estimate Amazon had over 40% of all U.S. e-commerce sales in 2017. It took Amazon about 20 years to have more than 100 million SF of real estate leased and owned. But it only took 3 more years to pass 200 million SF.
Actual Day 1 Office
2017 Day 1 Office
Actual Day 1 Website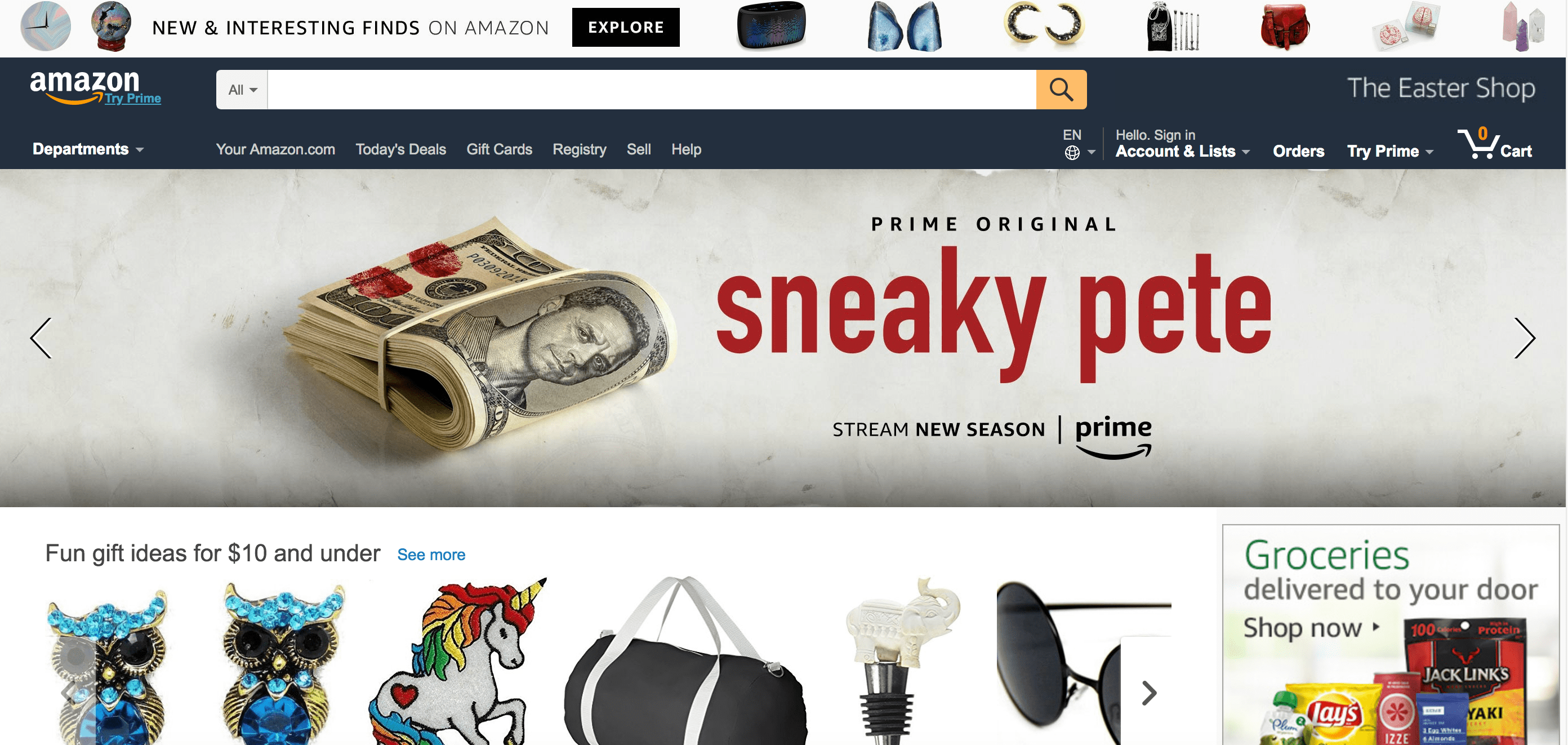 Feb 2018 Day 1 Website
Tools
Because Amazon's impact is simply massive, we thought it would be worthwhile to give our customers some tools that would help them get a handle on the scope of Amazon's CRE footprint, its growth and its strategy.
What we didn't do
HQ2 has been discussed by just about everybody, so we decided to put most of our work into the industrial side of Amazon's story, which on the whole, employs many more people, and is the infrastructure that threatens retail, delivery giants, and is growing at a tremendous pace. One angle we thought about going deep on was Amazon's government subsidies, but somebody beat us to the punch. We highly recommend checking out Good Jobs First's report
Will Amazon Fool Us Twice?
and their
Amazon tracker
to see how taxpayers have and continue to subsidize Amazon's fulfillment network.
What we did do
Overview
We've got an overview chart that aggregrates Amazon's annual properties disclosures from their 10-Ks going back to 1997 (their first 10-K as a public company). We get to see this broken down by property type, and against revenue and employee growth. For industrial and office, we further break it down into leased vs owned, and North America vs International. All the data can be downloaded for customer's own use.
USA Industrial Footprint
We've accounted for more than 110 million SF of Amazon's industrial footprint in the United States. This one was a doozy. Essentially, we found public sources confirming the SF of more than 180 leases, so that you didn't have to. There is a lot to be gleaned from these sources besides SF figures. We are also trying out some fancy new tools on the map that might find their way to our CMBS platform very soon. And of course, customers can download the underlying data for their own use.
In Depth Leases
A staple of these studies, we aggregrated much of Amazon's lease data from our CMBS platform into a gallery of leases. We've prepared details for 19 of Amazon's leases, with 9 in the industrial gallery and 10 in the office gallery. You can go deeper on the properties in each lease by visiting their property pages and the CMBS filings the data came from.
What is Rudolph Data?
Rudolph Data is a CRE market data platform optimized to research the leases, loans, and properties underlying Commercial Mortgage Backed Securities (CMBS). As a uniquely accurate and trustworthy source of data that isn't touched by most CRE professionals, we give brokers, lenders, and investors an edge. Rudolph Data also provides a growing stable of proprietary research tools that let customers explore trends in CRE with unique datasets.
The tools we describe above are only available to customers, but we did include a version of USA Industrial map at the state level below. If you want access to the tools, its very simple to become a customer. A subscription is $125 a month, or $100 a month if you pay annually.
Click here
to start the sign up process.
Amazon US Industrial SF Accounted For: ~119,000,000
Top 10 States: Absolute SF
| State | Square Feet |
| --- | --- |
| California | ~16,400,000 |
| Texas | ~13,200,000 |
| New Jersey | ~8,300,000 |
| Pennsylvania | ~7,200,000 |
| Illinois | ~7,000,000 |
| Florida | ~7,000,000 |
| Kentucky | ~6,800,000 |
| Arizona | ~5,100,000 |
| Indiana | ~4,400,000 |
| Tennessee | ~4,400,000 |
Top 10 States: SF per Capita
| State | Square Feet |
| --- | --- |
| Kentucky | 1.53 |
| Delaware | 1.46 |
| New Jersey | 0.92 |
| Nevada | 0.84 |
| Kansas | 0.82 |
| Arizona | 0.72 |
| Indiana | 0.66 |
| Tennessee | 0.65 |
| Maryland | 0.59 |
| Pennsylvania | 0.56 |
We come out with great new content and features about once a month